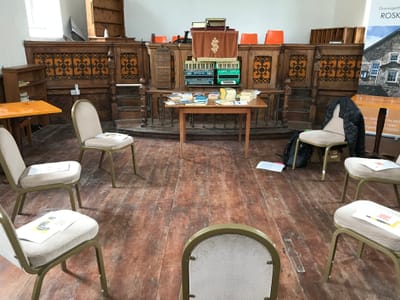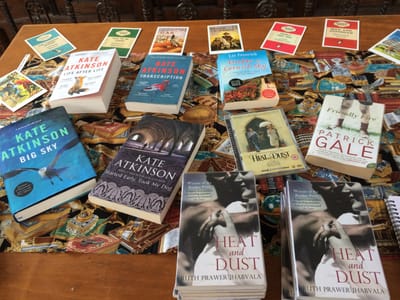 The Rescorla Book Club meets on the third Wednesday afternoon of the month at 1:30pm. The next meeting is on Wednesday 15th June when we will be discussing 'We Are All Completely Beside Ourselves' by Karen Joy Fowler.
If you would like to join the group, please contact Tracy on 07761443733.
Book Club Newsletter
April 22
Another interesting and lively discussion about this month's book – 'Black Rabbit Hall' by Eve Chase. The story was set in Cornwall in an old, rambling house. This was a setting that we all liked and there were obvious comparisons with 'Rebecca'. It was a story that jumped back and forth in time and was told in two different voices. The plot was quite engaging with a good twist at the end. However the book provoked a range of opinions from really liking it to finding it tedious. It was compared to being very fairy tale like in its structure, and having an ending so neatly tied up with everyone being very happy – which some of us found unbelievable! It certainly provoked a lot of opinions and discussion.
Here's a review of the book from Goodreads:
Black Rabbit Hall
by
Eve Chase
3.94 · Rating details · 13,986 ratings · 1,808 reviews
For fans of Kate Morton and Sarah Waters, here's a magnetic debut novel of wrenching family secrets, forbidden love, and heartbreaking loss housed within the grand gothic manor of Black Rabbit Hall.
Ghosts are everywhere, not just the ghost of Momma in the woods, but ghosts of us too, what we used to be like in those long summers ...
Amber Alton knows that the hours pass differently at Black Rabbit Hall, her London family's country estate, where no two clocks read the same. Summers there are perfect, timeless. Not much ever happens. Until, of course, it does.
More than three decades later, Lorna is determined to be married within the grand, ivy-covered walls of Pencraw Hall, known as Black Rabbit Hall among the locals. But as she's drawn deeper into the overgrown grounds, half-buried memories of her mother begin to surface and Lorna soon finds herself ensnared within the manor's labyrinthine history, overcome with an insatiable need for answers about her own past and that of the once-happy family whose memory still haunts the estate.
Stunning and atmospheric, this debut novel is a thrilling spiral into the hearts of two women separated by decades but inescapably linked by the dark and tangled secrets of Black Rabbit Hall. (less)
And another review:
A thrilling spiral into the hearts of two women separated by decades but inescapably linked by the dark and tangled secrets of Black Rabbit Hall.
Lorna has finally found the love of her life. Her relationship with Jon has always been easy and exciting at the same time, and she can imagine spending the rest of her life with him. But, like many engaged couples, the very process of planning a wedding may prove to be the biggest test their relationship has yet faced. Lorna, who recently and unexpectedly lost her mother, finds herself inexplicably (and, in Jon's mind, irrationally) drawn to a crumbling old mansion on the Cornish coast called Pencraw Hall on the wedding website, but known to all the locals as Black Rabbit Hall. Lorna is convinced that this is the same mansion she and her mother visited together when Lorna was a child, and despite Jon pointing out the house's many leaks, crumbling plaster, and overgrown gardens, Lorna is enchanted by its romantic ambience, its beauty, and, most importantly, the fact that she feels a mysterious emotional connection to the place.
Lorna's contemporary story, during which she grows increasingly entangled with the house's elderly owner and its skittish caretaker, alternates with an account of tragedy and betrayal that unfolded at Black Rabbit Hall more than thirty years earlier. Fifteen-year-old Amber Alton has always been as close as can be to her twin brother Toby. The two of them adore their much younger siblings, as well as their vivacious American mother. Their mother, in turn, adores Black Rabbit Hall, the family's wild country retreat from their more staid London existence. But during the Easter holidays in 1969, tragedy strikes the family and sets into motion a series of events that will leave all the members of the family deeply changed – and that may result in a cascade of additional misfortunes.
At first, the connection between the two stories – separated by several decades and connected only by this ramshackle old mansion – is unclear. And while it's likely that few readers will be entirely blindsided by the revelations that eventually disclose the threads tying the Alton family's harrowing past together with Lorna's more optimistic present, few will anticipate all the thorny turns that the narrative will take before its surprisingly upbeat conclusion.
Black Rabbit Hall is drawing a number of comparisons with the beloved novels of Daphne Du Maurier, not least because of their shared setting in Cornwall, but also because of a more generalized exploration of the links between a specific, evocative place and (often devastating) family history. Chase's novel rarely shifts setting from the confines of Black Rabbit Hall and its environs; when it does, the change is both jarring and a bit liberating, as if the reader can finally take a deep breath, away from the stifling and yet spellbinding atmosphere of this place.
Reviewed by Norah Piehl
Our next book is 'We Are All Completely Beside Ourselves' By Karen Joy Fowler. Our next meeting is Wednesday 15th June at 1:30pm at Rescorla.
As Spring moves into Summer maybe we can have suggestions for some Summer reads. I can start the ball rolling with a few books that I've bought and read especially for summer holidays that I've been on.
Looking forward to seeing everyone in June.
Happy reading,
Tracy.